BLS Provider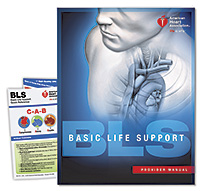 Course Description: 
This is a Basic Life Support Course. We will review the current standards for Basic Life Support as set forth by the American Heart Association, including adult, child, and infant CPR/AED/Choking. THE AHA REQUIRES THAT YOU BRING THE CURRENT TEXT TO CLASS WITH YOU.
Course Price:  $39 per student (We accept Cash & all Major Credit Cards), ADD BLS TO ANY ACLS OR PALS COURSE FOR ONLY $29!
Upcoming Classes:
[gigpress_shows scope=upcoming artist=5]
For those that prefer to take their course online, please click here to learn about our Blended Learning Options.
You can buy your AHA Provider Manual from LBW Training Center (602) 283-0079, or online from one of the following companies:
Due to our varied hours of operation, please call before stopping by to purchase your book.