Advanced Cardiovascular Life Support (ACLS)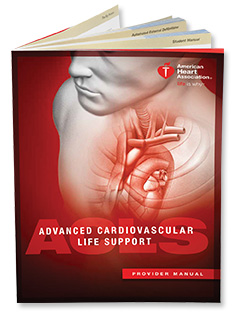 Course Description:
Advanced Cardiovascular Life Support (ACLS) healthcare providers enhance their treatment abilities through ACLS training. From basic life support to advanced interventions and from airway management to pharmacology and more, professionals hone their skills.  This ACLS initial 2 day course is designed for any healthcare provider who is not proficient in cardiac situations, is taking ACLS for the first time, or has allowed their card to expire.
Course Price:  $139 per student (We accept Cash & all Major Credit Cards).  You may add a BLS Renewal course for only $29.  THE AHA REQUIRES THAT YOU BRING THE CURRENT TEXT TO CLASS WITH YOU.
ACLS Pre-Test Link:  www.heart.org/eccstudent code: acls15
Upcoming Course Dates (9am-5pm):
[gigpress_shows scope=upcoming artist=86]
For those that prefer to take their course online, please click here to learn about our Blended Learning Options.
Please click here to learn about our Basic EKG Rhythm Interpretation courses.
You can buy your AHA Provider Manual from LBW Training Center (602) 283-0079, or online from one of the following companies:
Due to our varied hours of operation, please call before stopping by to purchase your book.